Alumna Gives Back to Poets in the MFA in Creative Writing Program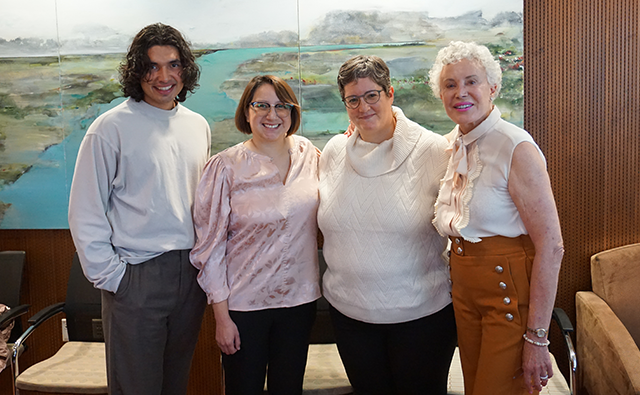 Poet Sarah B. Marsh-Rebelo raised her teacup to toast the MFA in creative writing/poetry students whom she honored at a special MFA Scholars Appreciation Tea.
Students received a scholarship to help them complete their graduate studies and they were honored at the annual tea attended by Marsh-Rebelo, her husband John, Dean Monica J. Casper, Sandra Alcosser, director of the MFA in creative writing/poetry program, Blas Falconer, professor of poetry, and a few of Marsh-Rebelo's closest friends.
This year three students received scholarships and read their poems to the rapt audience in the Finch Conference Room of the Arts and Letters building. Honorees were Alejandra Hernández, Luis Torres, and Laura Ribitzky.
Marsh-Rebelo is a 2012 graduate of the MFA in creative writing/poetry program and her manuscript "Over My Shoulder" published that same year, is a collection of more than 45 heartfelt poems.
"Poetry allows us an avenue to share our pain; feel the pain and make room for the positive," said Marsh-Rebelo in her address to the students. After hearing them read their poems, she said, "I love where you go. To share your thoughts and feelings is such a gift."
Dean Casper said, "Sarah B. is a wonderful and devoted friend to the college, especially our MFA program. Her direct support of graduate students aids in their learning and creative expression, while offering an important contribution to the humanities writ large. As we have seen during the pandemic, we need the arts – including poetry – now more than ever. I am so grateful."
Past scholarship awardees often continue on their poetic journey to win national awards, publish their work, and contribute to poetry in public forums around the world. 2019 Marsh-Rebelo Scholars Dan Waldman and Brent Ameneyro both won prestigious fellowships and notoriety this year.
In closing, Marsh-Rebelo said to the students,"Write as if your life depended on it — because it does."
MFA Student Highlights
Laura Ribitzky
"I felt surprised, thrilled, and honored to have been selected as a recipient of the Sarah B. Marsh-Rebelo Scholarship for Poetry," said Laura Ribitzky. "This is my first semester at SDSU's MFA Creative Writing program, and the scholarship helped make that possible.
"Additionally, it served as validation and a warm welcome to a field that for a long time I barely even let myself dream of entering. I arrived in the U.S. as a young immigrant many years ago, and English was my second language – I knew three words at the time: he, she, and dog. But before I understood the meaning of English words, I heard the music, the poetry in them. Reading, writing, and sharing poetry have long felt like vital, but luxury pursuits.
"The MFA Creative Writing program in Poetry takes these pursuits seriously and provides an encouraging and supportive space within which to build and develop my craft alongside my fellow poet-classmates. From day one, it was clear to me that the director, coordinator, and professors pour their hearts into leading, facilitating, guiding, and teaching. They are incredibly dedicated artists and educators, and I feel grateful to be in their company
"I am also deeply grateful for this scholarship, as it eased a bit of the financial burden of starting a graduate school program and allowed me to immerse myself more fully in the creative writing community. Sarah B. Marsh-Rebelo, a poet and champion of the arts, is an inspirational member of this community. I recently had the privilege of meeting her, and was instantly taken with her own poetry, humor, and enthusiastic support for poets."
Alejandra Hernández

Beautiful boy, I have known you so long longer than measuring in years
or in stories or kisses or songs. I felt you wrap yourself around me when I was a kid, maybe we want to believe motherhood
was forced on me but I chose it. You,
are deliciously kind. When your eyes get real bright, I am liquid inside. I have found my reprise -- and I wrap myself around you and hum.
Level Headed
I count the capsules out of the
prescription bottle, making sure
I haven't lost any. Three days without
is plenty to condition myself unsteady.
I feel fine, I feel alright —
tiny white pellets in my belly.
When I cry, my mouth is dry,
contrived of something heavy.
And when I speak, I talk
too fast — I share too much.
I walk, head up — grin:
confidence's a rush.
I often miss that humble thing I was
before the medication.
Luis Torres
"The scholarship helped me understand myself as a writer who could be taken seriously by those who have been practicing poetry their entire lives. While I was writing 'in the dark,' so to say, the acceptance into the writing program and the scholarship, without which I would not have been able to attend, allowed me to shift what I was doing into the light of a career.
"The way I engage with words now is as a professional, not simply because of a change of attitude, but because of the support and encouragement I've received from faculty, donors, and peers of the MFA program."
If you would like to join Sarah in donating to the MFA Poet Scholarship Fund for upcoming poets, please visit: philanthropy.sdsu.edu/MarshRebeloScholarship.