Parallel Paths Converge on Poetry Alumnus' Journey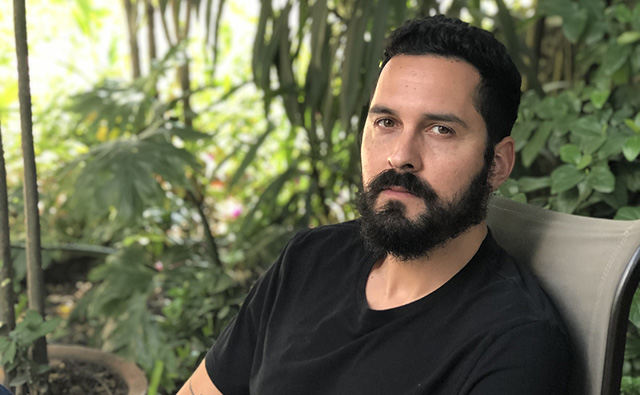 Photo Credit: Kent Ameneyro
Brent Ameneyro works at the intersection of community and creativity
Brent Ameneyro is an active poet juggling a writers' life while fully engaged in the poetry community. He graduated in spring 2022 with an MFA in Poetry, and in September received a Poetry Coalition Fellowship to work with the University of Notre Dame on Letras Latinas at the Institute for Latino Studies.
The Poetry Coalition is a national network of 25+ poetry organizations, and this year it awarded three-year paid fellowships to five scholars. Supported by the Academy of American Poets, it works "to promote the value poets bring to our culture and the important contribution poetry makes in the lives of people of all ages and backgrounds."
"Being a part of something that is connected to the national Poetry Coalition and the University of Notre Dame feels like it's definitely a big step, and I feel very grateful," Ameneyro said.
Ameneyro's first task was to work on the Afro-Latinx Poetry Now event where six poets performed their work and delivered a talk about an Afro-Latinx poet of their choosing. He will also revamp the Letras Latinas social media presence, engage in public relations activities for events, and work on grant proposals to fund initiatives.
Ameneyro will do a variety of work, from production to social media, for the second season of the "Curated Conversation(s): a Latinx Poetry Show" that features UK/Latinx, poets and U.S. Latinx poets in conversation.
CULTURAL AND COMMUNITY ROOTS DEVELOPED IN MEXICO
Much of Ameneyro's first manuscript, "Puebla" is based on his childhood and the years living in Puebla, Mexico. "There's a part of my artistic identity that is correlated with my Latinx identity," he said.
When his father, born in Mexico City, was invited to head the English department of a K-12 school in Puebla, he moved the family there from a Sacramento suburb. Ameneyro was just seven years old. His mother taught English in the school that Ameneyro and his two brothers attended.
It was "culture shock" – a sort of juxtaposition to his days living in a sleepy California suburb. In Puebla, the family lived in a small cinder-block house on a dirt road. He remembers going to the little bodegas and markets there. "It was very much a local town feeling," Ameneyro said.
"It shaped who I am entirely — not just the language, but the culture and community, and the experiences."
They lived in Puebla during a time of political turmoil in Mexico. The political and economic climate was dire. After their house flooded and his father experienced unjust interactions with police, the family decided to return to Sacramento where Ameneyro finished school.
"That childhood experience in Mexico was a catalyst for my career," he said.
PIVOTAL MOMENTS CREATE THE SPARK FOR A WRITERS' LIFE
In his teen years he enjoyed music, which translated into songwriting and the lyric form. "It wasn't until college, when I took a philosophy class and an English class, that I had this spark and made a connection about loving these subjects all along." Ameneyro said. "I just never had the environment to nurture it."
"I got so involved with reading and writing that it just took over. That's where I applied a lot of my energy, and I was writing a lot, but I also had a lack of confidence from neglecting my education during high school and middle school that by the time I graduated college I still didn't feel like I was worth it," he said.
He spent his post undergrad years working as a guest teacher in an elementary school, while at night writing and working on music. He and his brother Kent Ameneyro released albums and played music on tour. He considers those years a big part of his artistic development.
"It also gave me this kind of clarity of what it means to be involved in an artistic community, and I've been able to take what I've learned from that experience and apply it to my approach to poetry today."
He quit his 9-to-5 job in 2016 because he felt he was not going down the right path — he felt he had deviated from his truth. It was the impetus to apply to graduate school at SDSU. He realized he needed to take his writing seriously.
"I started to have these meditations and kind of diving into the philosophy of life, where I thought about what it means to be selfish and what it means to be selfless," Ameneyro said. "I realized that oftentimes when we're selfless, we're actually being selfish because it feels good. And so there's this kind of hidden negativity associated with selflessness."
Through the teaching experience he came to the realization that there are certain requirements in his life where he needs to be selfish "in order to then be able to give back to my community and to help others."
"There are these moments — these pivotal moments where you have this awakening or realization, and those moments are what completely change the course of your life," Ameneyro added.
SDSU MFA PROGRAM: A HUMANISTIC APPROACH — PERSONALIZED AND CARING
"I had a great experience at SDSU," Ameneyro said. "Sandra Alcosser [director of the MFA in Poetry program] really looked out for me during that time and personalized the experience. I think that a lot of what I got at SDSU was because of that personal attention that she gave me — always passing me opportunities and thinking about me when there was something that made sense for my specific journey.
"It didn't feel like it was a teacher/student relationship. It's more of a 'we want you to succeed, so we're standing behind you, we're lifting you up.' It was a very humanistic approach." Ameneyro said.
Ameneyro gives credit for opportunities, awards, and recognition to Alcosser, Blas Falconer, professor of poetry, and Jessica Pressman, co-founder of digital humanities and professor of English. "The three of them really provided a personalized, caring environment."
Ameneryo's digital poem "Luck" was selected the winner of SDSU's 2022 Electronic Literature Competition and featured in the Electronic Literature Organization (ELO) conference and art festival in Como, Italy. The poem explores the issues and challenges related to the pandemic and the U.S./Mexico border.
He received a fellowship to attend a poetry retreat in San Miguel de Allende, and received a Sarah B. Marsh-Rebelo scholarship in 2019. In 2021, Ameneyro received an Student Research Symposium (SRS) Research Award for Diversity, Inclusion and Social Justice.
When Ameneyro reflects on his journey, he said, "It's like two roads running parallel to each other. One is the creative road, the other is the community, and I'm always working in both."