SDSU Emeritus Professor Richard Wright: When Donor Walls Converge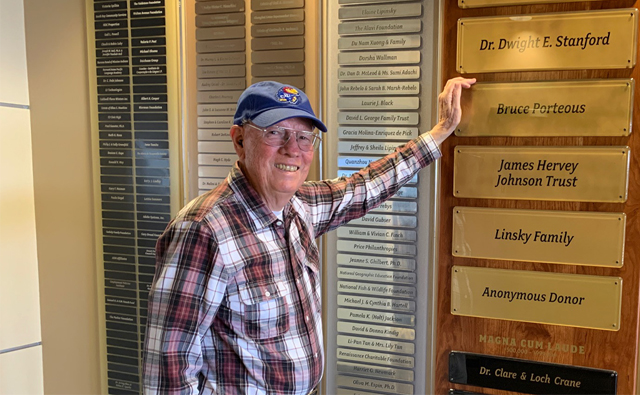 A renewed inspiration for giving to the College of Arts and Letters began purely by accident in 2018. It happened when Richard Wright entered the sixth floor College of Arts and Letters dean's office lobby to say hello to an old friend who had worked in the Department of Geography, where Wright spent his nearly 40-year career.
Wright is professor emeritus of geography and past co-director of the Center for Earth Systems Analysis Research at San Diego State University. He is a specialist on geographic information systems (GIS), cartographic visualization, and coastal watershed analysis. Wright has been the recipient of 85 grants and contracts from federal, state and local agencies. He has also been recognized for his work in solving environmental problems in the U.S./Mexico border region, and he is a 2004-2005 recipient of SDSU's Faculty Award of Distinction.
As he exited the elevator, he walked past the CAL donor wall display and saw a name he recognized — "Bruce Porteous." At that moment, Wright said, "It brought back a flood of memories about Bruce." He recalled that Porteous was frugal, yet generous with his time in the community.
Porteous was Wright's friend and neighbor in Jamul, and was engaged in giving back with his time. He served on the community planning group — the Jamul/Dulzura Planning Group, as did Wright. "I also remember on Sundays in the 1950s and 1960s, that Bruce would open up his home to Bracero program workers to use his phone and call their relatives," Wright said. "He was generous in those ways."
Bruce E. Porteous (1916-2012) graduated from SDSU with degrees in sociology and teacher education in 1949. He taught at Herbert Hoover High School from 1954 until his retirement in 1976. The "Bruce E. Porteous Endowed Professorship in Political Science," was established through a gift from his estate, and is awarded by the Department of Political Science in recognition of a professor's contributions to the department's mission.
Inspired to Give in Areas Close to His Heart
About three years ago, Wright attended the twentieth anniversary gala for the Water Conservation Garden in El Cajon, when he participated in a live auction to raise funds for the garden, along with about 100 others.
With his auction paddle at the ready, Wright was thinking about donating money. "I don't know what prompted me to do this, but all at once the spirit of Bruce Porteous came to me, and I raised my paddle and I said, '$10,000 for the donor wall!' The woman next to me looked at me like I was losing my mind," Wright said.
It was the beginning of a commitment to see a donor wall completed on the grounds of The Garden, where Wright has spent many hours volunteering in numerous roles, from board president to weed puller.
"What I find fascinating is the connection between the two donor walls," Wright said. There are two donor walls connected through Bruce Porteous, the SDSU alum who made a difference in Richard Wright. "He influenced me to give and become the driving force in building the donor wall at the Water Conservation Garden."
The wall highlights those donors who have given at least $1,000 during a 15- to 20-year span. Wright said It took a couple years to build it and he gives credit to Janelle Wallace, director of development and membership, and Jennifer Pillsbury, executive director and CEO at The Garden for making it happen.
At SDSU, the College of Arts and Letters donor wall on the sixth floor of the Arts and Letters building houses names of donors. It will be reconstructed this year to highlight all donors to date, along with a digital version that appears on the CAL website, for those who cannot visit the building to see the plaques.
Wright has been donating to the geography department throughout the years for two purposes: to fund the annual Geography Graduate Reception Endowment for graduate students, and to highlight outstanding geography students with the Richard Wright Award in Cartography. One of the teaching laboratories was named the "Richard D. Wright Spatial Analysis Laboratory" in recognition of his generosity.
Wright noted a little known fact that "the graduate reception is in honor of Waylon and Jessi Wright" Wright's Golden Retrievers named after singers Waylon Jennings and Jessi Colter.
Besides giving back to the Department of Geography, Wright's interest in the Department of Women's Studies is also longstanding. He was part of a committee that hired the first tenure-track women's studies professor and chair at SDSU in 1970, and in so doing, established the first Department of Women's Studies in the nation. He said it was the committee's job to hire the initial chair, and then "get the heck out of the way" so that the department could flourish with strong leadership and a commitment to growth. Wright has continued to be a dedicated supporter of the Women's Studies program over the years, and in recent years has donated to the department's scholarship fund.
Wright hopes that he can inspire others to give to the Water Conservation Garden and to the College of Arts and Letters by telling his story — akin to how Bruce Porteous inspired him to embrace a mindset of giving.
"Giving back is not about me," he said. "I want to see Bruce's spirit live on."
And, the spirit of giving lives on, thanks to Richard Wright.