Environmental Justice the Subject of Dean's Lecture Series with Kyle Whyte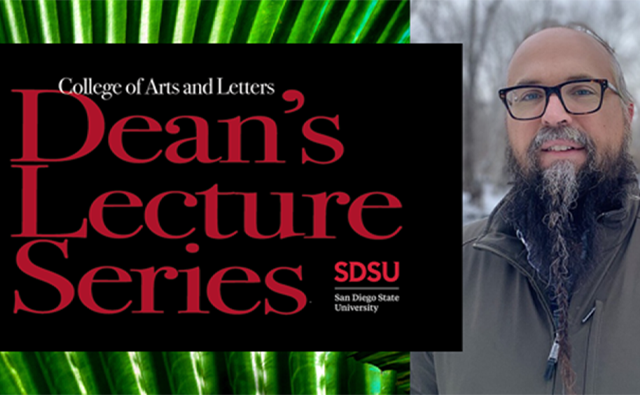 In 2021, the Biden-Harris Administration launched the largest investment in environmental justice in the history of the U.S. – pledging and allocating hundreds of billions of dollars to combat environmental racism.
However, the scale of investment has revealed dimensions of environmental justice (EJ) that have been neglected in public policy and academia. The neglected dimensions reveal problems that are vexing to solve, whether philosophically, scientifically, or practically.
Kyle Whyte, the George Willis Pack Professor in the School for Environment and Sustainability at the University of Michigan, where he is also Founding Faculty Director of the Tishman Center for Social Justice and the Environment, will present: "Environmental Justice Two Years Later: Lessons from the U.S.' Largest Ever Investment to End Environmental Racism" at the second annual Dean's Lecture Series presented by the College of Arts and Letters at 5:30 p.m. on Thursday, April 6 via Zoom.
Whyte is an enrolled member of the Citizen Potawatomi Nation, and his research centers on climate policy, environmental justice, and Indigenous peoples. Widely published and with an impressive record of grant funding, Whyte is deeply committed to advancing Indigenous research, education methodologies, and communities. His outreach record is likewise extensive, including his current membership on the White House Environmental Justice Advisory Council.
Whyte's presentation will review the status of EJ in the U.S. today, and recommend pathways forward given what has been learned through two years of growth in resources and policies for EJ.
We caught up with Whyte to gain a better understanding of his work and upcoming lecture.
What have you learned through your work as a member of the White House Environmental Justice Advisory Council? Can you give us a peek into specific topics and presentations?
One of the key tasks of the members of the advisory council has been to make recommendations about the Justice40 Initiative, a Biden/Harris administration policy that seeks to ensure that 40% of the benefits of major environmental infrastructure and workforce development investments flow to disadvantaged communities, especially Black, Brown, and Indigenous communities.
Each month we hear and get information from numerous agencies about their policies and practices in relation to environmental justice. It's a lot to take in, given there are dozens of agencies and many hundreds of programs that we are making recommendations about. What's challenging is that many community-based organizations and tribal nations face tremendous administrative and human resources obstacles for being able to access and use the increased amounts of funding for environmental justice launched by the White House.
Initiatives like Justice40 immediately must face up to the fact that communities affected negatively by environmental injustice have been cut out of major investments in infrastructure for generations. The advisory council has made a lot of progress, in my opinion, to identify exactly how and why communities are not able to benefit from large federal investments. What we have learned will be critical for making environmental justice policy in the coming decades.
What do you hope attendees at your lecture will take away?
I'm going to be offering some recommendations about how we should rethink our assumptions about how to solve environmental injustice. One assumption I would like to challenge is the assumption that "we must have hope". I think that "hope" oftentimes distracts us from the practical work and relationship building that is necessary to foster a world characterized by environmental and climate justice.
Is there anything you'd like the audience to know about you that might surprise them? Any other facts you'd like to share, so the audience can get to know you better?
While my main job is as a professor, I started off as an environmental justice organizer, and I maintain my connection to that work as a member of the Anishinaabek Caucus and as board president of both the Michigan Environmental Justice Coalition and the Pesticide Action Network North America.
What are you looking forward to during your visit to San Diego and SDSU?
SDSU has some of the most cutting edge scholars in climate and environmental justice and Indigenous studies, among other fantastic scholars. I look forward to connecting with many of these tremendous individuals.
What do you hope to learn from, and share with students at SDSU who are studying American Indian Studies?
Indigenous studies, in my view, is the most exciting field in academia. Through Indigenous studies, we do the work of uncovering suppressed histories, strengthening INdigenous cultural and political self-determination, advancing Indigenous rights, and playing a role in the most powerful stories in the world of Indigenous peoples restoring their self-governance against all odds. I also hope to share about some of the work I do with Tribal Colleges and Universities, as I believe strongly in these institutions as critical hubs for Indigenous self-determination and sovereignty in our communities.