Emerita Professor Ann Johns Establishes Two New Endowed Scholarships in CAL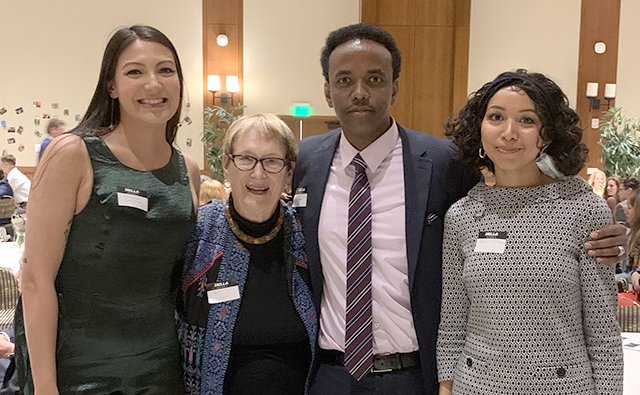 Scholarships will support students in the Departments of Rhetoric and Writing Studies and Linguistics and Asian/Middle Eastern Languages.
It was in 1973 when Ann Johns first arrived on the mesa to begin her storied career at San Diego State University. She was a young, energetic, and committed instructor, fresh from her Teaching English as a Foreign Language (TEFL) master's program at The American University in Cairo.
That same year, Johns founded the American Language Institute (ALI) and directed it until 1981. She also began teaching composition to diverse students as a lecturer in the English department, all while working on her Ph.D. at the University of Southern California.
In the early 1990s, Johns co-founded SDSU's Department of Rhetoric and Writing Studies; and, with a dual appointment, she was instrumental in creating the applied specialization in the Department of Linguistics. She also founded and co-directed several other programs at SDSU, including the Center for Teaching and Learning, Freshman Success Program, and Writing-Across-the-Curriculum Program. She spent four years as assistant dean in the College of Arts and Letters (1993-1997).
Johns has presented her work and consulted in more than 30 countries while, at the same time, publishing eight books and more than 150 articles and book chapters.
"Dr. Johns, one of the 'Founding Mothers' of rhetoric and writing studies, is an internationally known teacher-scholar specializing in literacies, genre, and English for Specific Purposes," said Glen McClish, chair of the Department of Rhetoric and Writing Studies.
"Dr. Johns' has left an indelible mark on the hundreds of students she taught and mentored in applied linguistics courses over her long career," said Betty Samraj, professor and former chair of the Department of Linguistics and Asian/Middle Eastern Languages. "What I think is especially admirable about Ann is the belief and confidence she has in her students' potential and her backing this confidence by making available resources, which no doubt have changed the trajectory of these students' lives."
Although Johns officially retired in 2002, she continues to work at SDSU. She currently teaches an undergraduate course for first-year students called Preparing Yourself for Academia and Beyond (General Studies-150). Her 21 students may not know how lucky they are to have an SDSU legacy as their guide.
As she reviewed her career at SDSU, Johns said, "It has been a delight. I've worked with many accomplished department chairs and colleagues. I believe being a faculty member at a university is the most wonderful thing you can do in your life."
The establishment of the Ann M. Johns Scholarship for Rhetoric and Writing Studies illustrates McClish's claim that her "commitment to students, particularly those who face linguistic, economic, and cultural challenges as they transition to college, is legendary."
"This generous endowment from Ann will continue her impact on student lives and facilitate student success," said Samraj of the new Ann M. Johns Scholarship in Linguistics.