Inaugural First-Generation CAL Student Success Program Celebrates 43 Students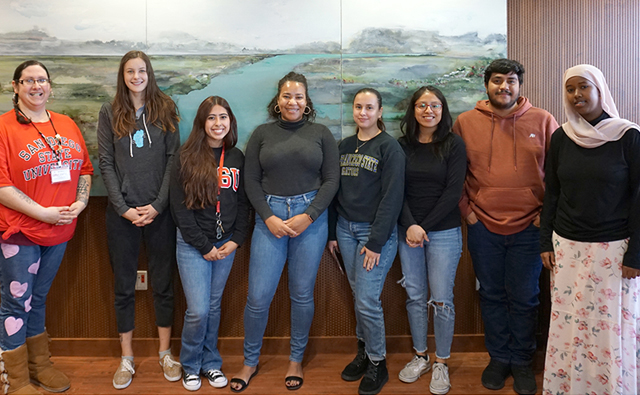 In CAL there are noticeable equity gaps in student success for transfer and first-generation students. In order to support these students, we created a CAL Student Success Program where new first-generation students can opt in to access supplemental advising, academic support, and community at SDSU. We accepted 43 new first-gen students into the program for the fall 2022 semester.
Students oftentimes struggle when transitioning into a four-year university for the first time, but they find a home and a sense of belonging in CAL through this program. Most find community resources to navigate the system and say that joining student organizations and meeting other students is a highlight.
We have been looking for ways to recognize and reward these students who make the extra effort to strive toward academic excellence; despite their unique challenges. On Nov. 7, during a celebration ceremony, we provided students with a certification of completion of the semester-long program and a pad portfolio. In addition, we awarded two students with a $500 award — Mackenzie Karl and Tatiana Williams.
Funding for the award was provided by SDSU economics alumna Joan B. Anderson who was a professor of economics at USD. Her interest in the CAL First-Generation Student Fund was spurred because of her desire to make an impact and passion to advance first-generation students.
At the event, College of Arts and Letters Dean Monica J. Casper offered words of wisdom to the students. "As a proud first-gen alumna of a liberal arts college, I am so pleased to welcome you as you enter this beautiful community of learners and scholars who will help you discover your future and achieve your dreams — empowering you with skills, knowledge, and competency that will last a lifetime."
Learn more about award winner Mackenzie Karl and Tatiana Williams in a Q&A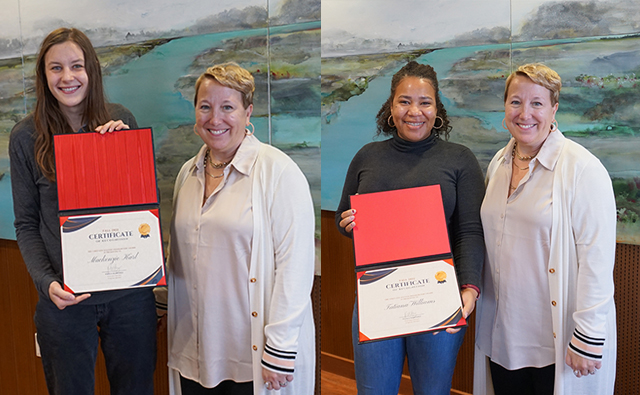 MACKENZIE KARL
First-generation, transfer student from Grossmont/Cuyamaca Community Colleges
MAJOR: Sustainability / Third-year
MINOR: International Security and Conflict Resolution (ISCOR)
*Also pursuing a leadership certificate and plans to pursue SDSU's Peace Corps Prep Program.
Q: What opportunities at SDSU are you most thankful for?
A: The opportunity to participate in student governance at SDSU for the first time has advanced my interest in participating in civic administration. I have been fortunate to get my foot in the door my first semester, temporarily holding the position of VP of community engagement on the College of Arts and Letters Student Council, during fall 2022. The position has introduced me to the various CAL organizations, made me aware of additional resources and opportunities on campus, and has provided ample opportunities to gain insight "behind the scenes" into the general student body decision-making process. With a welcoming executive board and the guidance of our wonderful CAL success advisors, I feel I have had an amazing head start on my academic career at SDSU.
I have also been fortunate to be connected to a study abroad program through the global education office at SDSU. I am thrilled to spend the spring 2023 semester in Costa Rica participating in a Spanish, Sustainability, Community Engagement program!
Q: How has the SDSU first-gen program changed your outlook on the college experience?
A: The first-gen program has helped me discover that, especially also as a transfer student, there is a tremendous amount of support and additional resources available on campus. Conversing with similarly situated students made me realize others have had similar struggles when it comes to transitioning to SDSU as first-gens, but we are a thriving group of students. The first-gen program has affirmed that what we bring to the table through our unique perspectives is valued and adds to the community.
Q: What are your career goals?
A: I aspire to incorporate my bachelor's degree in sustainability and minor in ISCOR to pursue a career in international humanitarian efforts focused on elevating climate change-induced suffering. I am not sure where this will take me specifically, but I am extremely motivated to combine my passion for conservation with my drive to help others.
Q: Anything else to add?
A: I am immensely grateful to be one of the recipients of this first-gen award! This generosity confirms there is an enormous community who are invested in my success and are eager to support my journey as a first-gen transfer student. I would also like to extend my gratitude to my CAL Student Success Center advisors for facilitating the first-gen program, which has contributed substantially to my growth as I have transitioned to SDSU.
TATIANA WILLIAMS
First-generation transfer student from Cuyamaca Community College
MAJOR: Sociology / Third-year
MINOR: Political Science
Q: What opportunities at SDSU are you most thankful for?
A: I am very thankful for the opportunities to join so many different clubs and organizations.
Q: How has the SDSU first-gen program changed your outlook on the college experience?
A: It has helped me gain confidence and more resources. My first semester at SDSU was very intimidating and I felt lost and unsure of myself. The First-Gen Success Program gave me a safe space to ask questions and meet others.
Q: What are your career goals?
A: My goal is to join law enforcement and become a detective and hopefully join the Child Abuse unit.
Q: Anything else to add?
A: I am so honored to be chosen to receive this scholarship. I am also thankful for our organizer Paola and all of the other participants that I've bonded with during this semester.