Students Forge New Pathways to Catapult Their Careers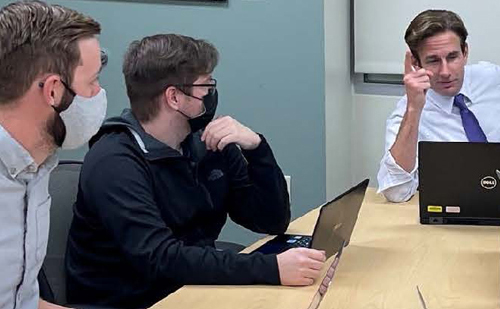 Graduate student achievements include pre-doc post-doc, and faculty positions at important institutions.
A group of graduate economics students associated with SDSU's Center for Health Economics and Policy Studies (CHEPS) are forging new paths. CHEPS student affiliates are M.A. and doctoral students who have been funded on external research grants provided by the center to conduct applied microeconomics and policy research with faculty. Some of the students are co-leaders who do extraordinary work in peer-to-peer mentoring.
Matt Braaksma
CHEPS affiliate and economics M.A. student Matt Braaksma was accepted to seven Ph.D. programs, and chose the applied economics Ph.D. program at the University of Minnesota this fall.
Braaksma has been a highly-engaged co-author working on several important public policy projects at CHEPS. His work, joint with Yang Liang and Joe Sabia, along with Mike Pesko (Georgia State University) and Catherine Maclean (Temple University), looks at the spillover effects of electronic cigarette (e-cigarette) taxes on teenage drinking and drunk driving-related outcomes. Braaksma has also made important research contributions to a recently accepted article at the Journal of Policy Analysis and Management that finds important mental health benefits from anti-bullying laws for lesbian, gay, bisexual, and questioning (LGBQ) youth and non-white females.
Student Viewpoint
"With CHEPS, I have continued to gain hands-on research experience as we investigate the potential spillover effects of e-cigarette taxes on other risky youth behaviors. Reaching this stage in the research process has allowed me to better understand how a research question evolves over the course of a project. I have continued to improve my data analysis skills and learn new econometric methods. In addition to research experience, the seminar series has provided the opportunity to observe presentations of cutting-edge research by leading economists. My experience with CHEPS continues to be instrumental in my development as a researcher."
— Matt Braaksma
Zach Fone
Fone accepted a new faculty position at the U.S. Air Force Academy. Fone will serve as assistant professor and analyst for the Office of Labor and Economic Analysis (OLEA). His faculty appointment is housed under the economics and geosciences department.
Zach received his Ph.D. in economics from the University of New Hampshire and is currently a postdoctoral scholar at Montana State University. He has been a research affiliate at CHEPS since its founding in 2017.
"As a Ph.D. student, Zach spent some time in San Diego working on his dissertation and serving as an invaluable mentor to the Center's predoc students," Sabia said. He is an applied microeconomist with interests in the economics of crime, health policy, and the social safety net. Zach currently has projects at the revise-and-resubmit stage at the Journal of Public Economics, the Journal of Law & Economics, and the Journal of Sports Economics.
Gokhan Kumpas
Kumpas has accepted a tenure-track faculty position in the Department of Economics at California State University Los Angeles.
Kumpas received his Ph.D. in economics from the University of New Hampshire, spending a few semesters of his graduate years at CHEPS in San Diego working on his dissertation. "During that time, he served as a fantastic mentor to our pre-doc students — his positivity, kindness, and humor were infectious," Joseph Sabia, director of CHEPS said.
Kumpas is an applied microeconomist with research interests spanning the fields of labor and health economics. His work exploring the impact of Title IX on crime (joint with Drew McNichols) is forthcoming at the Journal of Human Resources, and his paper examining the effect of anti-bullying laws on youth suicide (joint with Daniel I. Rees) is forthcoming at the Journal of Policy Analysis and Management. Read more about his ongoing research.
Russell Leonard
Leonard was admitted (with funding) to the economics Ph.D. program at UC-Irvine.
Leonard received his B.A. in philosophy (cum laude) and economics from the University of Colorado-Boulder in 2019. After graduation, he spent time as a tax policy analyst for the Colorado Office of the State Auditor, where he developed a particular fondness for policy research.
He then turned to SDSU to develop his empirical skills and theoretical background. His research interests include public policy, environmental and natural resource economics, and their overlaps in the economics of transportation and of inequality and discrimination.
As a research affiliate at CHEPS, Russ has worked extensively with Sabia on projects examining the effects of public policies on youth risky health behaviors. For example, using data from the national and state youth Risk Behavior Surveys (YRBS), Russ is exploring the impact of state vertical identification laws – which require state drivers' licenses and identification cards issued to individuals under age 21 to be to be vertical in nature – on underage teen alcohol and tobacco use. In addition, he is exploring whether state anti-bullying laws have spillover effects on youth public health.
Student Viewpoint
"I have learned a lot about the importance of attention to detail when conducting economic and policy research, and I have gained a ton of insight into the different steps of the research process and what it takes to produce high-quality academic work. I have also enjoyed the opportunity to mentor and assist some of our first-year graduate and undergraduate students. Helping them navigate their research and coursework has given me a lot of perspective on just how much I have actually learned and progressed in just the past year and a half. I am excited to continue my journey in this field and with the center [CHEPS]." — Russ Leonard
Rebecca Margolit
CHEPS affiliate and M.A. economics student Rebecca Margolit accepted a two-year pre-doc position as a research associate at the Wilson Sheehan Lab for Economic Opportunities (LEO) at the University of Notre Dame. She will begin her research in summer 2022.
Margolit is the first CHEPS M.A. student to have published a National Bureau of Economic Research (NBER) working paper prior to receiving her degree. Her research, joint with Daniel Rees (Universidad Carlos III de Madrid) and Joe Sabia, examines the effects of minimum wage laws on teenage fertility. Her work casts doubt on previously published evidence suggesting that raising the minimum wage could be an effective policy strategy for reducing teenage childbearing. In addition, Margolit has provided invaluable research support on projects with Sabia that examine the impacts of COVID-19 school reopening policies on maternal labor force participation and teenage suicide.
"I am tremendously excited for Becca's next adventure working with the poverty and labor economics group at Notre Dame and hope that her experiences with the economics department and CHEPS will result in her admission to a top economics Ph.D. program in the future," said Sabia.
Student Viewpoint
"I had an opportunity to take on many different roles within the center [CHEPS]. I remained a student and a research fellow, but I was also now a co-author, mentor, and a colleague trusted with jumping into many different research tasks. Providing mentorship and guidance to our incoming students has provided me with additional insight as to how much human capital I have gained as a researcher and an academic. The training, coaching, and networking of the center have inspired me to continue a career in academia but have also made me a fiercely competitive upcoming Ph.D. candidate. I look forward to my further affiliation with the center during my Ph.D. and beyond." — Rebecca Margolit
These students were awarded graduate research fellowships funded by the Center for Health Economics and Policy Studies, which includes grant support received from the Troesh Family Foundation and the Charles Koch Foundation.