NEH Grant for Human Rights and Interdisciplinary Border Studies Minor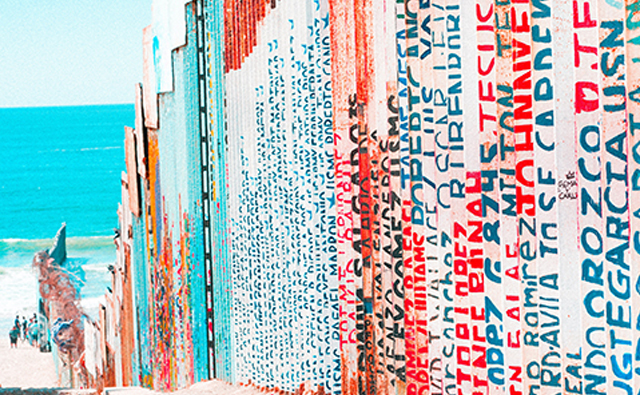 The National Endowment for the Humanities announced $33.17 million in grants for 245 humanities projects across the country.
San Diego State University won a nearly $35,000 grant for the "Human Rights and Border Studies Interdisciplinary Minor."
Mark Wheeler, professor of philosophy and interim chief administrative officer and dean at SDSU Imperial Valley and Grace Cheng, lecturer in political science and Center for Human Rights director will develop an interdepartmental and inter-collegiate planning committee to develop the new interdisciplinary minor.
SDSU's two campuses in the City of San Diego and the Imperial Valley offer a unique and important opportunity to better understand the human rights issues associated with border governance, which are particularly visible in border regions.
The undergraduate minor will feature the overlapping topics addressed in both human rights and border studies, specifically the ways that borders are politically and institutionally maintained and how these processes can have negative impacts on human rights, particularly for members of certain groups, including migrant workers, refugees, asylum-seekers, trafficked persons, and Indigenous and local communities that are separated by borders and otherwise impacted by border enforcement practices and policies.
"It is important and timely to develop this minor. Many SDSU faculty in San Diego and in Imperial Valley are pursuing research and developing courses focused on the borderlands and, in particular, on how to conceptualize and protect human rights (and the rights of nonhumans as well) at the frontiers of communities," said Mark Wheeler.
"We have an opportunity now to foster a cohort of faculty and students working on these problems. The new strategic plan emphasizes the fact that SDSU is a borderlands institution, with a unique role and responsibility to study and serve borderland communities. The planning grant for this minor is a first step toward developing our capacity to pursue transdisciplinary research and pedagogy related to this crucial global issue."
"Inspiration for the minor became clear during the last few years when meeting colleagues with a common interest in what is happening in our part of the world and country — many times it relates to bordering practices and the enforcement of the border and the impacts on human rights," Cheng said. "Many faculty members are doing research and working with migrating communities, asylum-seekers, and refugees. With this minor, we can show our strength at SDSU."
It allows a cross-collaboration with fields in the humanities and other fields like homeland security, public health, business, environmental studies, criminal justice, social work, psychology, and communication.
The curriculum will draw upon the expertise and interests of faculty members who work on the human rights dimensions of border policies and enforcement practices in other parts of the world, including Europe and Asia."We will bring resources together to expand the range of opportunities for students," Cheng said.
The minor will also provide undergraduates with a strong foundation for graduate study, including participating in advanced projects of a research and action lab on migration and human rights issues that SDSU's Centers for Human Rights, Latin American Studies, and Brazilian Studies are working to establish, which will bring together scholars, students, and partner organizations to collaborate on policy papers and public engagement activities.
The aim is to offer an innovative curriculum that will enhance the educational experience of undergraduates of any major at both SDSU campuses whose interests intersect with human rights and border studies.
"The minor and the experiential learning opportunities that we are developing will address the demand for graduates who are well-informed and equipped and able to serve in agencies that support migrants who arrive at our border region and the communities affected by border policies," Cheng said.