Africana Studies Celebrates 50th Anniversary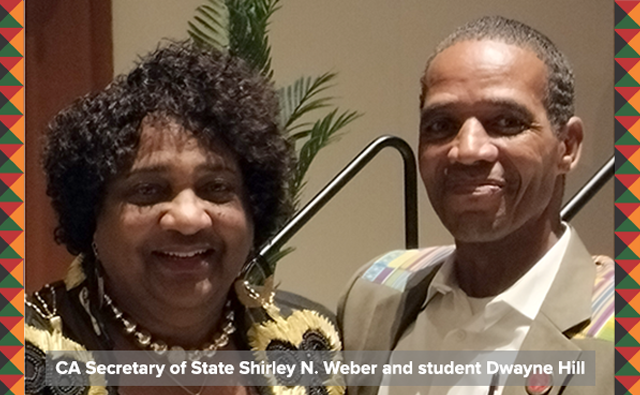 Campus celebration brought Shirley Weber and other leaders to campus
The Department of Africana Studies at San Diego State University emerged out of a nationwide protest movement. This student and community effort was an extension of the Black Power and Black Arts movements. Black students and their community allies sought to affirm the lives and expand the possibilities of Africana people on predominantly white campuses.
They were also committed to creating a bridge between the university and the Black community. For these revolutionary students and community members, it was no longer enough to simply exist at traditionally white institutions. Rather, they demanded fundamental changes that would improve their experiences in those spaces AND provide them with the tools to improve the conditions of their communities and dismantle the pillars of white supremacy. They demanded a curriculum that reflected the historical, social, political, educational, and cultural lives of Black people, and a faculty and staff that mirrored them. It was therefore no coincidence that a dedicated and highly respected civil rights activist, Dr. Harold Brown, established what was then called the Department of Afro-American Studies at San Diego State University in 1972.
The theme of our 50th anniversary is "Africana Studies at 50: a Retrospective of Scholarship, Art, and Activism." Our scholarship is a necessary corrective to the racist and Eurocentric scholarship that either historically mischaracterizes or systematically omits teaching and learning African phenomena. The role of art in the field of Africana Studies is foundational. Art is a reflection of the organic nature of the artistic expression in the everyday lives of Africana people. Activism is at the very core of Africana Studies. Not only did the discipline emerge because of activism, but the mission of Africana Studies remains guided by our obligation to advocate for Africana people, communities, and institutions.
We are proud of our past and excited about our future and we thank the Office of the Secretary of State Dr. Shirley Weber, the Office of the President, the Office of the Provost, Student Affairs and Campus Diversity, the College of Arts and Letters, and the School of Theatre, Television and Film for embracing the opportunity to support this truly remarkable milestone. And for that, we are grateful.