CAL Overall Outstanding Graduating Senior Ready to be Future Leader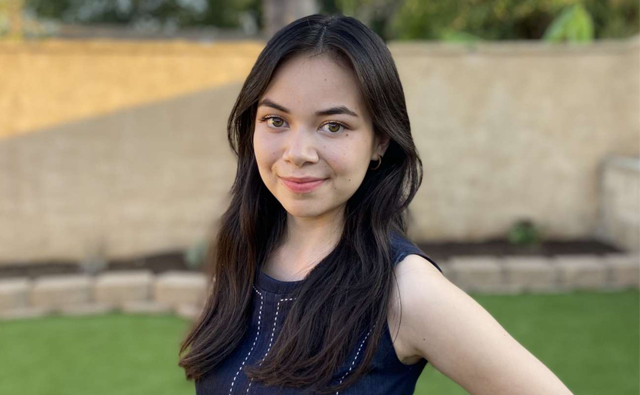 Leslie Zubieta has a remarkable story that demonstrates her courage, persistence, and interest in helping the most disadvantaged groups in society. At the same time, she has been able to overcome major life challenges and develop many leadership skills through extracurricular activities. Zubieta is a first-gen Latina honors student with a GPA of 3.95. She is an international business major with a minor in interdisciplinary studies.
When Zubieta started attending college, her greatest feat was being able to show up to every single one of her classes. As an under-resourced student whose parents lived in Mexico, the only way she was able to afford attending San Diego Mesa Community College was by commuting daily from Tijuana and back. It took her five hours to commute every day.
She became an Associated Students senator and president of the Honors Club. These student organizations gave her many opportunities to develop leadership skills and organize events on a variety of topics. It was during this time that Zubieta also started volunteering for yet another set of campus activities involving the Financial Literacy Speaker Series (FLSS).
The FLSS sparked her interest in social entrepreneurship and financial literacy. For one and a half years, her job was to promote and manage over 15 different speaker events that were aimed to inform students about a wide range of financial topics. In order to keep the discussions relevant to students in her community college, Zubieta conducted research on common financial issues that college students are facing. She discovered that a large number of the students who were seeking financial guidance came from families who had recently immigrated to the United States. These students felt that they were disadvantaged because their parents were not able to educate them on various financial matters. Leslie was able to figure out what specific topics were important and timely, and, in the process, drew many students to the FLSS events.
Leslie got involved with the Border Angels Chapter at San Diego Mesa College. She worked with this nonprofit organization to provide aid to migrant asylum seekers that arrived to Tijuana shelters. When Leslie transferred to SDSU in fall 2020, she continued these interests, thrived academically, and demonstrated even more leadership skills.
Zubieta was among a select few who participated in the National Internship Program that is organized by the Hispanic Association of Colleges and Universities. As an intern for the Latin America section of the Congressional Research Service in Washington, D.C., Zubieta helped fulfill congressional requests for information analysis, carried out research projects on immigration and trade, and organized a panel with three expert analysts who discussed the immigration policies affecting asylum-seekers at the southern border.
As the vice president of philanthropy for the Weber Honors College Student Society, Zubieta continues her efforts to make a positive impact in the areas where she finds it is most needed. Reaching out to underprivileged groups remains one of the key areas of her focus.
Since fall 2021, Zubieta has served as a Career Peer for SDSU Career Services. In this capacity she has given presentations on internships, resumes, and career development, among other topics. She also mentored students one-on-one to help them improve their resumes and cover letters when applying for jobs.
In the future, Zubieta would like to help people achieve financial independence and use her skills in business development to provide assistance to others who may need it at a global scale. In order to achieve this, she wants to gain some experience with nonprofits that work to provide financial assistance and guidance to communities in need.
Leslie Zubieta is set to be a leader of tomorrow. She has the talent, imagination, discipline, energy, and a sense of purpose to become a very influential entrepreneur in the near future.
Find out who the other CAL outstanding graduating seniors are by department.