Whitaker Receives PRRI Public Fellowship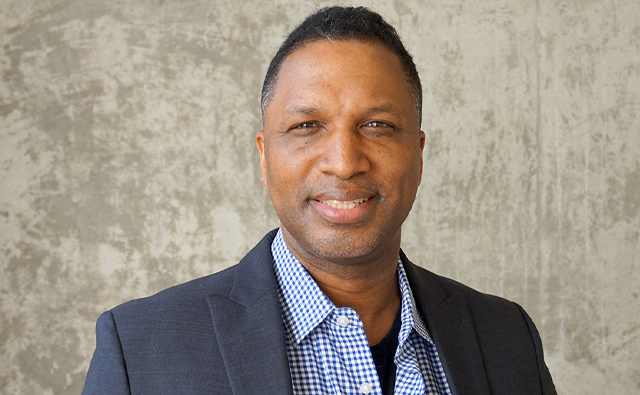 Roy Whitaker, explores pressing issues of religion and democracy.
There has been an increase in the number of Black Americans who identify themselves as unaffiliated with a religion, a trend that fascinates transdisciplinary researcher Roy Whitaker as part of his work in a fellowship he was awarded late last year.
Although there isn't a tidal wave of Black men and women specifically becoming atheists, secularity does seem to run counter to the Black church's historical role in the Black community. Whitaker, an associate professor of Black Religions and American Religious Diversity, said there's no apparent single reason for deconversion but it may stem from a dispiritedness that follows centuries of systemic mistreatment and lack of solace found in organized religion.
"In Black America, those who choose atheism many times come to it through the prism of struggle and suffering," Whitaker said. "They may conclude that God has not really been there for Black people the way preachers claim in a nation that's continually and systematically viewed and treated them as other."
It's among many matters of religious, racial, and ethnic pluralism Whitaker is exploring with other scholars in a fellowship with the Public Religion Research Institute. The Washington, D.C.-based organization has launched an initiative on what may come across as an improbable nexus: "Religion and Renewing Democracy."
Whitaker, who teaches in the Department for the Study of Religion, is one of 16 PRRI Public Fellows appointed in September. Other groups in the 2021-22 cohort are studying immigration and migration, racial justice and white supremacy, and LGBTQ rights.
Whitaker said PRRI's assistance for scholars in presenting their findings through public-facing op-ed articles and other publications strongly appealed to him in applying for the fellowship. It's a bit of a respite from the analytically rich yet sometimes "inside baseball talk" of academic journal article writing, he said.
"I've done service work where I've given talks in the community which really enlivens my soul," he said, citing one occasion in which he spoke on pop culture and religion at a Quaker retreat. "To complement my ruminations on technical academic issues, I will continue to turn my gaze further toward the broader society." Whitaker is convening a "New Religions in San Diego" conference on Oct. 6 at SDSU for the community.
The fellowship also is a chance for Whitaker, who specializes in Africana philosophy of religion, to advance another core aspect of his research: Black pluralism. Whitaker self-identifies as a Black religious humanist and pluralist with an existential phenomenologist bent. In his search for common forms of life and truth, he said he gleans insights from theists and atheists alike.
Whitaker said some Black people may turn to religions less commonly found in Black America, like Buddhism, while others look to explore their spirituality instead of through traditional top-down institutional archetypes as seen in Christianity, but contemporary emergent bottom-up ones as seen in hip hop religion.
Indeed, some Black people turn away from religion altogether, choosing the path of Black atheism, thereby becoming "a minority within a minority," Whitaker said. They're subjected to discrimination on both fronts, due to their race and lack of belief, which is one of the reasons he's surprised by the PRRI research trend from 2013-20 showing the uptick in religiously unaffiliated among Black people occurring across American society as a whole. "You're leaving part of the Black religious community," he said, "and you're joining another one that may not feel immediately home to you."
Whitaker said this is a good time, especially considering the current geopolitics of war and the plight of Ukraine, to reconsider the nature, value, and implications of democracy, "its flourishing, its floundering."
"If you don't fight for democracy, the other options, such as autocratic regimes, could fill the void," Whitaker said. "An inclusive and open society, support for human and voting rights, and social justice for historically discriminated groups are the kinds of values I think everyone regardless of political stripe, theoretically, could subscribe to as ideals. But on the ground a healthy democracy is very difficult to achieve."