Joely Way Memorial Scholarship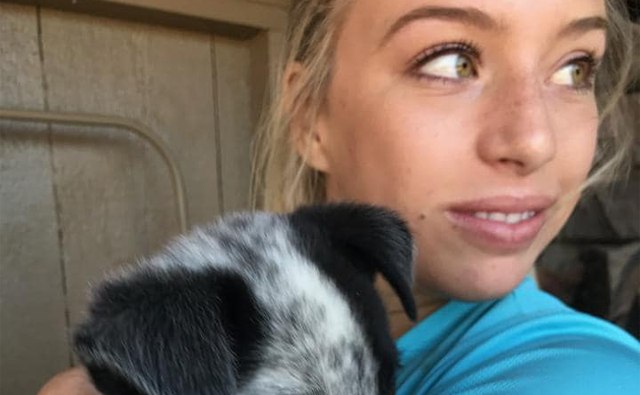 At the end of Spring 2021, Joely Way, who had recently turned 24, was experiencing extreme fatigue, nausea, and a lingering cough, right after finishing her internship at an organic farm in upstate New York. These were the last credits she needed to complete her studies and earn her BA in Sustainability at SDSU. After visits to urgent care, the emergency room, and finally the hospital for scans, a biopsy, and scopes, doctors found "innumerable tumors" in her liver and lungs. She was diagnosed with Stage IV Cholangiocarcinoma, a rare, brutal cancer with a poor prognosis.
Up till this moment, Joely lived a charmed life full of adventures, treasured friendships, and loving family. While at SDSU, she went to Tanzania during Winter break with the GIVE program to help build a permaculture garden. She loved the people of Zanzibar with their easy smiles and contagious laughter. She was able to go on a safari and swim with wild dolphins while in Africa.
Joely had a smile that would light up a room and was kind, intelligent, inquisitive, and thoughtful. And she was brave while facing this terrible, awful cancer. She kept to her healthy, clean-eating vegan lifestyle and practiced yoga and headstands until her body denied her that pleasure.
Joely did not share much on social media, but about two weeks before she passed, she posted a message on her Instagram. It read in part:
"I have spent the last year going through hell with chemo and other treatments but unfortunately they didn't work. I am now on hospice and have weeks left to live. Slowly dying at 25 when all I want to do is live. I have lived an incredible life filled with love, travel, adventure, amazing friendships, and loving parents. If I can say one thing is to fully go live your life, because it can be taken from you in a flash. The message I want to leave to the world is to please please treat animals and the environment with love and respect, earth is such a precious place that I wish I got to see more of. Love to you all and thank you everyone who has supported me during this journey."
Joely's message of treating animals and the environment with love and respect is a pure, simple, and sweet request. And yes, those words came from the heart. But Joely made this seemingly simple request because she deeply understood what is causing this planet to hurt so much. She worked to get an education in Sustainability from SDSU, graduating in August 2021. This was no easy task for her. When she was younger, and even when she first started college, she was not the most dedicated student. But the work came easy once she found her passion in how sustainable practices can impact the environment. She became the teacher. She encouraged people to watch countless environmental documentaries, David Attenborough became a hero to her, and she encouraged her family and friends to eat a plant-based diet.
Although Joely could not use her education to pursue a career because her body succumbed to this cancer 11 months later in May 2022, her passions and story will live on through this scholarship! Her parents, John and Helen Way, and their family and friends want to aid SDSU students majoring in Sustainability to further Joely's legacy of treating the environment and animals with kindness and respect, by helping them with their educational pursuit of learning how to be stewards of this planet through sustainable practices.
Give to the Joely Way Memorial Endowment