Student Showcase Shines Light on Undergraduate Research in CAL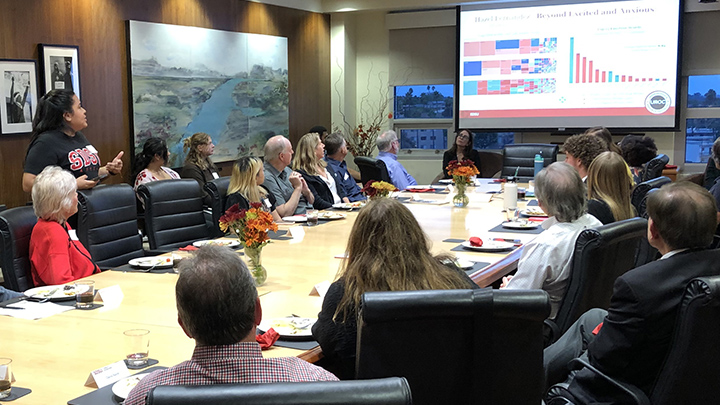 Students present their research and creative activities at October event
Undergraduate Research, Scholarship, and Creative Activity (URSCA) is a top priority at San Diego State University. The College of Arts and Letters provides research support for students through the Undergraduate Research Office in CAL (UROC).
"Undergraduate research makes learning more meaningful and enhances cognitive and intellectual growth," Elisa Sobo, director of UROC said. "It opens career pathways, increases career readiness, and builds community." Studies show that when students add research and creative activities to their studies, graduation rates increase as well. With faculty mentors and grant funding, students are supported by the campus-wide effort toward becoming a premier public research university, as outlined in the strategic plan.
On Oct. 25, CAL presented the URSCA showcase, giving students a chance to engage with the audience and answer questions about their research, scholarship, and creative activities. Interim Provost Bill Tong, Interim Dean Ronnee Schreiber, and Interim Associate Dean Mike Borgstrom were in attendance.
Students Audrey Lacher, Avi Martin, Callie Summerlin, Emily Mooney, Elizabeth Fomine, and Toki Lee presented posters highlighting their research and creative work. Topics included: socioeconomic effects of age of arrival for U.S. immigrants, impacts of arctic oil/gas exploration, water quality in the Tijuana Estuary, Free Verse poetry, Ukraine War battlefield trends, and the creative writing process.
Melanie Hussey, a social science major and editor-in-chief of Splice, the journal of undergraduate scholarship at CAL shared impacts of publishing in the journal. About the showcase event, Hussey said, "I enjoyed learning from my peers through their amazing work. I felt as though the professors and other faculty mentors wanted to really listen and understand the student perspective to learn what research means to us."
The Splice Collective staffed a display showcasing the most recent issue of the journal, which attendees enjoyed reviewing. Students there to answer questions included Amireh Boroujeni-Ellington, Emily Tablak, and Ethan Pellegrini.
Sociology student Hazel Fernandez, presented a speed talk about the factors that shape undergraduate career decisions. She discovered students use 34% positive words and 66% negative words in their top 15 descriptors of feelings and emotions about career search.
"URSCA really has allowed me to grow as a student by allowing me to build a community that encourages me to dream big," Fernandez said. "I was really nervous to present my research but seeing the genuine curiosity of those present, gave me confidence to share my knowledge."
Hattie Jenkins, an economics and statistics double major, presented a speed talk about her research on forest law and trade programs in Latin America and Africa. Her research seeks answers about the effectiveness of the program, and the impacts on forest loss and timber production.
Callie Summerlin, an environmental sciences student said, "Being involved in URSCA has given me the opportunity to pursue ideas and questions while being guided by inspiring mentors. The experience makes me feel excited for the future!"