Preservation and Digitization of Tijuana's Historical Archives Broadens Public Access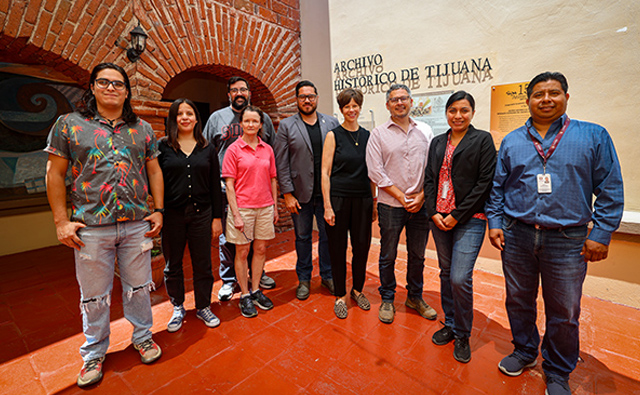 Teams from the University Library and the Center for Regional Sustainability take the lead on a massive bi-national project
Hundreds of stacked file boxes, and shelves filled with news clippings, vinyl records, cassette tapes, videos, and other ephemera represent the rare recorded history of Tijuana since its founding in 1889. The Archivo Histórico de Tijuana, housed in the Instituto Municipal de Arte y Cultura (IMAC) in downtown Tijuana, is set to receive a new space — online.
San Diego State University's Lisa Lamont, head of Digital Collections at the University Library, and Jessica Barlow, director of the Center for Regional Sustainability, are leading digitization of the archives with support from staff and students. Providing metadata - searchable descriptive tags - in both English and Spanish about each of the tens of thousands of items will make it easier to glean information directly from the region's primary sources.
"Together, we are building a new model for promoting equitable access to scholarly materials supporting bi-national learning, scholarship, and engagement," said Scott Walter, Dean of the University Library.
"This brings to light our commitment to our bi-national region and peoples, and to our support of this first-ever IMAC dual language database," said College of Arts and Letters (CAL) Interim Dean Ronnee Schreiber. "By collaborating with the University Library, CAL provides valuable resources that will ultimately aid researchers around the world."
Snapshots of history
Since the IMAC was severely underfunded for so many years, the biggest issue is disorganized files. Nearly 68,000 visual images including printed photos, slides and negatives need to be digitized.
Print materials and other ephemera that document the people, buildings, political activism, and public events in history, once digitized, will give researchers and the public access to these hundreds of thousands of documents that have never been shared outside the walls of the IMAC in Tijuana.
"The archive shows the vibrancy of the region — the music, maps, photos, and government documents," Jessica Barlow said. "It provides a peek into a city often overshadowed by stereotypes."
Barlow added that there is an urgent need to preserve the archive since the IMAC space is not humidity controlled. Changes in humidity can cause documents to rapidly warp and decay.
Lamont and University Library Digitization Specialist Matt Ferrill commute to Tijuana once or twice a week to oversee the work of two graduate students from Mexico, who are scanning images in a very large format.
"Right now the students work 20 hours a week to scan thousands of photos. They are scanning 13-14 images per hour and assisting with dual language metadata," Lamont said.
One student found 3,000 images — not in any particular order — and she created and organized them with a new numbering system. Another photo collection of Tijuana's origins in the first 20 years (1889-1909) provides a historical context not seen elsewhere.
"To see the evolution of the city through these photos is remarkable," said SDSU Center for Regional Sustainability Programs Administrator Kristofer Patrón-Soberano.
"It's very important to remember that this is one region, and one metropolitan area that has been there for a very long time with plenty of cross-border interaction and collaboration," Patron-Soberano said. "It's not just important for Tijuana, it's important for San Diego County."
The Tijuana archived materials and their bilingual metadata will be broadly accessible at both UCLA and San Diego State University libraries, thanks to a grant from the UCLA Modern Endangered Archives Program.

Beyond Tijuana, the project complements ongoing work led by Ramona Pérez and the SDSU Center for Mesoamerican Studies in Oaxaca to digitize documents in Oaxaca as well.
"The opportunity to work with the staff at the Archivo General del Estado de Oaxaca (AGEO) to preserve a wide range of textual and visual documentation of the history, cultures, and languages of this diverse state is a reflection of our commitment to participatory and community-engaged research and scholarship," said Pérez.
The Oaxaca archives are also available in the SDSU University Library Digital Collections.