Geographer Receives NASA and USDA Grants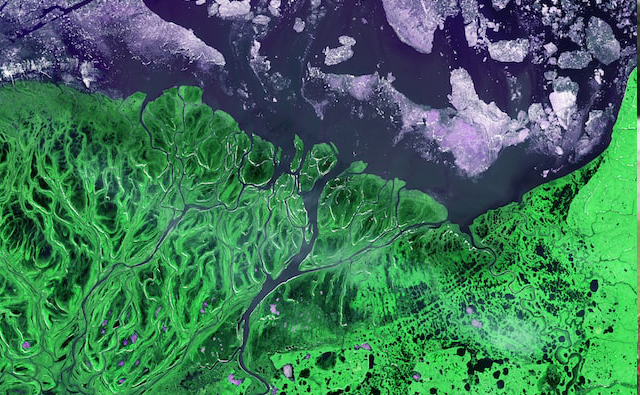 With three new extramural grants, Dan Sousa, assistant professor of geography, is working to make an impact through research projects that help find solutions to environmental issues plaguing the country. Sousa was a postdoctoral scholar at NASA's Jet Propulsion Laboratory before joining the College of Arts and Letters Department of Geography. He is focused on collaborations across colleges and departments at SDSU, as well as with partners in government labs and the private sector, and understands the importance of engaging students in these high profile projects.
NASA – Land Cover-Land Use Change
This research will identify land disturbances and societal vulnerabilities associated with expanding the human footprint of oil and gas exploration associated with thawing permafrost around two Arctic regions with an extensive history of oil and gas exploration – the Prudhoe Bay in North Slope Borough (NSB), Alaska, and the Yamal Peninsula in Russia. "We will use spectral mixture analysis to map and monitor long-term environmental change," Sousa said. This project has already involved SDSU geography undergraduate student and Maximizing Access to Research Careers (MARC) scholar Avi Martin. Martin, a third-year undergrad, has recently been accepted into the prestigious NASA Student Airborne Research Program (SARP), an eight-week summer study program involving flights in NASA aircraft based out of NASA's Armstrong Flight Research Facility in the Mojave desert.
NASA – Remote Sensing of Water Quality
This project will partner with Gybe, an environmental startup with offices in Portland, Oregon and San Diego to demonstrate how a low-cost sensor network can extend the utility of satellite remote sensing. Further, by working with county and state partners in the San Diego region, Sousa's team with co-investigators Trent Biggs, professor of geography, and Natalie Mladenov, professor in the Department of Civil, Construction, and Environmental Engineering, will demonstrate how remote sensing can improve the day-to-day activities of the local water managers and water enthusiasts by monitoring post-rainstorm bacterial loads which result in frequent beach closures and significant human health and economic impacts. This project has recently been extended to include another set of NASA internships through the DEVELOP program, providing further student research opportunities at Ames Research Center in Mountain View. This project involves SDSU Department of Geography M.S. students Stephany Garcia and Elena Aguilar.
USDA NIFA – Sustainable Agroecosystems
This project will determine the effect of agricultural abandonment on surrounding crop health and ecosystem services in Kern County. Agricultural land retirement is a pressing global phenomenon, raising concerns about the sustainability of remnant crop systems and the ecological vitality of intensive production regions. It is projected that at least 500,000 acres in California will be retired by 2040 due to the implementation of the Sustainable Groundwater Management Act (SGMA). Along with principal investigator Ashley Larsen, assistant professor of agricultural and landscape ecology at UC Santa Barbara, and co-investigator Amy Quandt, assistant professor of geography at SDSU, this research will help answer questions like whether retired agricultural land will become pollinator habitat, weed habitat, both, or neither? This four-year grant will incorporate student research into courses and labs, including incoming SDSU-UCSB Geography Joint Doctoral Program student Rex Peacock.