$1.6 million National Science Foundation Grant to Study Temporary Fishery Closures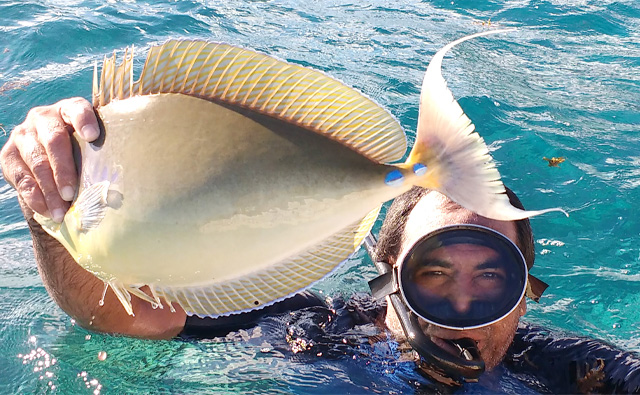 Research will focus on whether these closures are ecologically beneficial in critical habitats and socially acceptable to small-scale fishers who depend on them for their livelihoods and could be a model for resource management in challenges like climate change.
The prized bluespine unicornfish is one of the species central to environmental anthropology Professor Matthew Lauer's latest NSF grant to research the social and ecological components of temporary fishery closures in French Polynesia.
The herbivorous unicornfish (Naso unicornis), so named for the frontal horn protruding from its forehead, eats algae off coral reefs, helping to maintain the health and biodiversity of these critical habitats. "This unicorn fish is also one of the most prized eating fishes," said Lauer. "So marine scientists are always concerned about the overfishing, but so are the Polynesians.
"And this really gets into the cultural anthropology. For Polynesian peoples, they aren't just little pieces of food floating around in biology. They're pulled into their ancestral heritage," he said. "Part of the work is to think about how there are reasons that French Polynesians for thousands of years didn't overharvest their reefs to death. It has to do with this cultural kind of connection."
The traditional conservation practice Lauer is referring to is rāhui, whereby Polynesian communities would temporarily ban access to a lagoon or other area to fishers or hunters to allow the habitats to regenerate. Recent temporary fishing bans in French Polynesia based on rāhui are catching on outside of the region as an alternative to permanent bans on fishing in marine protected areas (MPA). Those MPA (usually managed by a central government) can restore species and habitat, but often fail because local people don't embrace them. "If you have people really dependent on that area for food and income, there's an equity issue," Lauer said.
The four-year NSF grant funds research for teams from SDSU, the University of California Santa Barbara, and the University of Washington to study temporary closures in French Polynesia and Mexico starting in June 2023. The work is crucial because MPAs have been well-studied, but these temporary closures have not.
"SDSU's role is the social science of the French Polynesia work," said Lauer, who has led SDSU research in French Polynesia since 2016, mainly in Moorea.
Although the specific sites where SDSU master's students will be based have not been finalized, Lauer said at least one will be in Tahiti. The students will work with SDSU postdoc Jean Wencelius and local stakeholders. "They're going to do field work and live in some communities, usually for a couple of summers. They'll conduct household surveys and go fishing with fishers. They'll learn about fishing, learn about how the community protects their resources, and learn about how the community responds to these new management initiatives."
The work builds on past SDSU research, including grants to employ a smartphone app for fishers to log the size of their catches, and to study revisions to a 2004 marine management plan in Moorea.
Paige Dawson, a master's student in environmental anthropology set to graduate in December, worked on that research, spending 12 weeks over two years in Moorea. "My research focused on how different stakeholder groups on the island frame success under the new management plan, and how they articulate that," Dawson said."What the definitions and framings of success are, and how they affect the actual implementation of the plan on the ground."
Dawson said the research helped her appreciate the complexity of marine management, particularly the diversity of opinions among community members. The fishers, for example, wanted decision-making powers in their hands, but differed on what constituted "a real fisher." For some, it meant someone whose livelihood was fishing or a fisher with enough skill to catch, say, a unicornfish.
Questions about what is success and failure and who defines it are central to Lauer's work on this NSF grant, as these temporary closures may be key to preventing overfishing. And that could protect the reefs from algae infestation and bleaching, as well as protect the livelihoods and food supply for the more than 1 billion people in coastal communities, especially in the developing world, who depend on small-scale fisheries. The management systems, too, could prove to be adaptable enough to manage climate change impacts.
"I really think this proposal is onto something, and it is that temporary management will be the global practice of marine management worldwide, outside of the developed world," Lauer said.