Welcome to Our New Faculty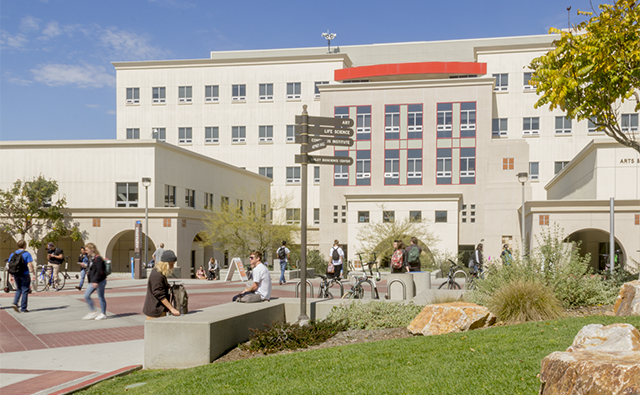 The College of Arts and Letters is pleased to welcome 10 new faculty in fall 2023, where departments across the college are expanding research in the social sciences and humanities. These new scholars are leaders in their fields of environmental policy, Chicana/o/x 20th century history, race and ethnicity, fiction writing, Latin American public humanities, Islamic studies, American Indian studies, and anthropology.
Meet Our New Faculty
Kristal Bivona
Assistant Professor, Classics and Humanities

Kristal Bivona is an assistant professor specializing in public humanities and Latin American studies. She holds a Ph.D. in Hispanic languages and literatures from UCLA, an M.A. in comparative literature from Dartmouth College, and a B.A. from San Diego State University in English with a Spanish minor. Her work focuses on visual culture from Brazil and the Southern Cone with specialization in cinema, memory studies, and art interventions in public. She has articles published in Luso-Brazilian Review, Memory Studies, and Latin American and Latinx Visual Culture. She is also the associate director of the Behner Stiefel Center for Brazilian Studies.
Miranda Chase
Assistant Professor, Political Science

Miranda Chase received her Ph.D. from the University of Massachusetts Boston in 2022. She is an environmental governance scholar specializing in the Amazon region. Her research occurs at the intersection of political science, economics, sustainability, climate change, Latin American and environmental studies. For more than ten years, she has been working in the Brazilian Amazon with Indigenous and traditional communities. Chase investigates how social movements influence policymakers. In her research, she asks questions such as "who controls natural resources?", "how does the control of natural resources explain today's world?", and "how the possibilities for a different world rely on how we manage natural resources?"
Matt de la Peña
Assistant Professor, English and Comparative Literature

Matt de la Peña is the #1 New York Times Bestselling, Newbery Medal-winning author of seven young adult novels (including "Mexican WhiteBoy" and "We Were Here"), two middle grade novels, and seven picture books (including "Patchwork" and "Last Stop on Market Street"). In 2016 he was awarded the NCTE Intellectual Freedom Award. de la Peña received his MFA in creative writing from San Diego State University and his B.A. from the University of the Pacific where he attended school on a full basketball scholarship. In 2019 de la Peña was awarded an honorary doctorate from UOP.
Amanda Kearney
Professor, Anthropology

Professor Amanda Kearney was awarded a Ph.D. in anthropology from the University of Melbourne. Kearney has held tenured professorial roles at leading universities, including the University of New South Wales, the University of Melbourne, and the University of Adelaide, where she was appointed the Inaugural Kidman Chair of Australian Studies. Her career has been distinguished by an over 24-year commitment to ethnography and collaborative co-designed research with Indigenous families in remote northern and central Australia. Kearney has nurtured the creative practice of reflexivity throughout her career and engages this in her role as a consultant and applied anthropologist. She regularly provides expert advice on Indigenous land and sea rights, submerged cultural landscapes, underwater cultural heritage, and corporate social responsibility. Kearney is also the current editor-in-chief for the journal Anthropological Forum.
Andrew M. McClellan
Assistant Professor, Classics and Humanities

Andrew M. McClellan's research and teaching interests range widely across ancient Greco-Roman literature and culture and the post-classical reception of the ancient world in the arts. His work tends to gravitate toward topics of violence, horror, and the grotesque. He's published articles on corpse abuse in Homer's "Iliad," "necropolitics" in Lucan's "Bellum Civile," zombiism in Silius Italicus' "Punica," intertextual violence in Prudentius' "Psychomachia," classical reception in Mary Shelley's "Frankenstein," and cannibalistic imagery in American rapper Lil Wayne's oeuvre. His book, "Abused Bodies in Roman Epic," was published by Cambridge University Press in 2019. He's currently writing a monograph on the somatics of cannibalistic imagery in literary critical discourse. He received his Ph.D. from the University of British Columbia.
Oscar Muñoz
Assistant Professor, American Indian Studies

Oscar Muñoz, a first-generation immigrant from Costa Rica, grew up in Southern California. He received his master's in public history, with a research-focus on Native public history, and his Ph.D. from the University of California, Riverside. For ten years he served as the cultural archives specialist for the Cultural Resources Department of the Pechanga Band of Payómkawichum Indians, where he assisted in the development and preservation of their archival holdings and of material items of cultural, historical and artistic significance to the Pechanga People. Professor Muñoz's research and upcoming manuscript, titled "Haní'-cha Fiesta-yk: 'Let's go to the fiesta,'" focuses on Southern California Native fiestas. The manuscript aims to trace Native events of tradition, later deemed fiestas by Spaniards, from traditional Native narratives of creation and their Spanish pre-invasion origin, and follow fiesta activity throughout the Mission, Californio, and Euro-American Periods.
Erika Rodriguez
Assistant Professor, Spanish and Portuguese Languages and Literatures

Erika Rodriguez received their M.A. in Spanish from University of Oregon and Ph.D. in comparative literature from Washington University in St. Louis. Her current book project, "Disabling Progress: Degeneration, Eugenics, and Futurity in Modern Spain," explores the construction of disability in relation to time, scrutinizing the connective tissue between visions of progress in theories of degeneration and early eugenics. Their second major project will continue to examine disability, economy, and political personhood by turning to representations of labor movements in Iberian, Cuban, and Filipino literature. Her publications on critical disability studies and Iberian culture studies have appeared in Disability Studies Quarterly, the Revista Canadiense de Estudios Hispánicos, and the Hispanic Research Journal.
Natalie Santizo
Assistant Professor, Chicano/a Studies

Natalie Santizo comes to San Diego State University from UCLA where she earned her doctorate in Chicana/o and Central American Studies in June 2022. She is currently serving as a UC President's Postdoc at UC Merced under the department of Critical Race and Ethnic Studies (CRES). Her research interests include 20th century history, critical food studies, and racial geographies. Natalie's current project is concerned with understanding how foodways — the production, consumption, and distribution of foods and food goods over time — have shaped Latinx placemaking and survival in the San Gabriel Valley of Southern California. Where this project is historically focused, it uses a mixed-methods approach (archival research, GIS mapping, census data analysis, and oral history) to create two interventions: 1) It grounds public history — building knowledge with marginalized communities — in piecing together Latinx social histories, and 2) It advances the framework of "critical Latinx foodways," a methodological process of recovery through a foodways lens that expands beyond this region.
Esra Tunc
Assistant Professor, Study of Religion

Esra Tunc is an ethnographer of religion and racial capitalism, and her work interrogates contemporary Islamic and ethical financial technologies, while exploring alternative socialities based on care and liberating solidarity. She is a former postdoctoral research associate at the John C. Danforth Center on Religion and Politics at Washington University in St. Louis. She earned her Ph.D. from University of California, Santa Barbara in 2022 and her M.A. from New York University in 2017, both in religious studies. Her book project, "Unjust Capital: Muslim Investing in the United States," examines the innovation of financial capitalism among Muslim communities in the United States. Bringing religion and capital into conversation with feminist critiques of capitalism and Black radical traditions, her project aims to contribute to not only scholarly work at the intersection of religion, capital, justice, and technology but also the search to imagine and implement alternative socialities amidst widely criticized products and systems within and beyond Muslim communities.
Neftalie Williams
Assistant Professor, Sociology

Neftalie Williams investigates global issues of race, diversity, and youth empowerment by utilizing critical theory to address power, identity politics, and social change through the lens of action sports. Centering the sporting lives of Black, Indigenous, and People of Color, his investigations offer historical examples of adversity and allyship to help develop a more inclusive future. Dr. Williams has published scholarly works on the topics, op-eds for mainstream publications, and provided commentary for multiple traditional news outlets. He has a forthcoming title with U.C. Press and Hatchett Books. His previous positions include Lecturer and Provost's Postdoctoral Scholar at the Annenberg School of Communication and Journalism and Yale Schwarzman Center Visiting Fellow in Race, Culture & Community.