Hisham Foad Named Fred J. Hansen Chair of Peace Studies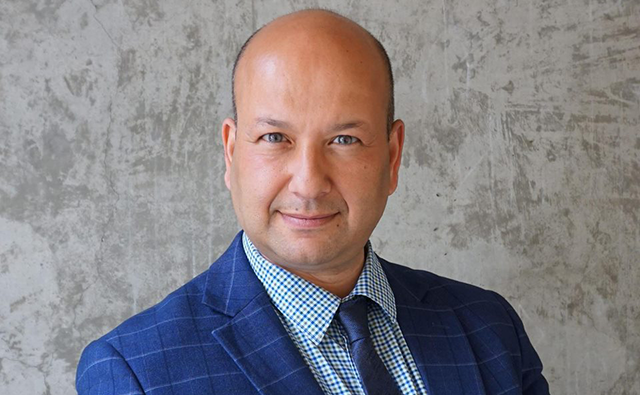 Hisham Foad, an associate professor and chair of the Department of Economics at San Diego State University, has been awarded the Hansen Chair. The position goes to outstanding scholars whose research and teaching focus on peace and nonviolence.
Foad is committed to expanding interdisciplinary collaborations between economics and other departments, serving as a core faculty member of the Center for Islamic and Arabic Studies, on the advisory board of the Behner Stiefel Center for Brazilian Studies, and the University Senate. Foad plans to develop a seminar series on the intersections between climate change, migration, and peace that will bring internationally renowned researchers to SDSU. Additionally, he will connect the seminar series with a CAL experience course tentatively titled "Climate Change, Migration, and Peace."
"I propose to leverage SDSU's unique position to work with refugee organizations in San Diego as well as student groups on campus connected to migrant communities, climate change, and peace," Foad stated. "Helping to establish connections between community groups, researchers, and students is a key role that I envision the Hansen chair playing."
To foster a community of scholars working on world peace, Foad intends to invite researchers from SDSU and the greater San Diego transborder region to become "Hansen Peace Affiliates." With these scholars, he plans to organize a working paper series as well as a monthly brown bag seminar so that members can share their research with an interdisciplinary community of scholars.
The selection committee believes that Foad's contributions and accomplishments as a researcher and teacher-scholar have the potential to make significant national and international impact. College of Arts and Letters Interim Dean Ronnee Schreiber said, "Dr. Foad's selection provides an opportunity to expand the meaning and understanding of peace studies and continue to build SDSU as a leader in this area."
Foad received his B.A. degree from Kenyon College and his M.A. and Ph.D. in economics from Emory University. His research focuses on the interactions between the movements of capital, goods, and people across national borders. Foad's current research projects include an examination of the impact of migration on trade, the effects of living in an ethnic enclave on a migrant's income and education, and a comparison of the international equity portfolio allocations of migrants and natives.