State Department Selects Csomay for Prestigious English Language Specialist Project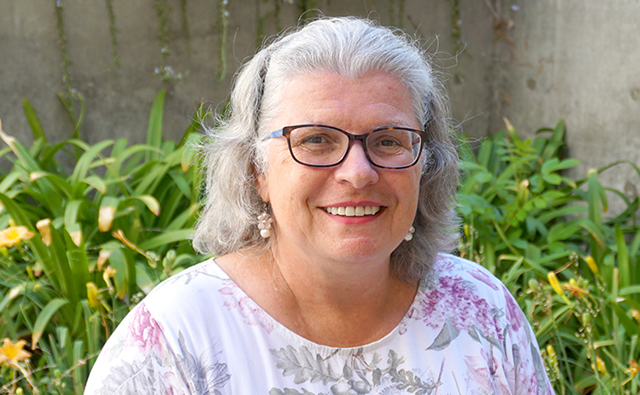 The U.S. Department of State announced the selection of Department of Linguistics and Asian/Middle Eastern Languages Professor Eniko Csomay for a three-month English Language Specialist project focusing on peer mentoring skills and English Medium Instruction (EMI) teaching practice for university faculty in Taiwan at National Sun Yat-sen University. Prof. Csomay is part of a select group, as her project is one of approximately 240 that the English Language Specialist Program supports each year.
Csomay has extensive experience teaching in EMI contexts. First, she was a high school teacher of TEFL for a few years in a small town in Southwest Hungary. Then, she was invited to teach at the Center for English Teacher Training (CETT) at Eötvös University (Budapest, Hungary). At that time (early 1990s and after the Soviet occupation ended), CETT was the prime teacher training program for TEFL in Central Europe. The program was infamous for its state-of-the-art curriculum that heavily focused on mentoring both pre- and in-service teachers through a non-judgmental feedback framework, and also included training on classroom observation.
Csomay has been a faculty member at San Diego State University for two decades, where she teaches courses to pre-service teacher trainees as well as master's students in the Applied Linguistics/TESOL specialization. She regularly teaches undergraduate as well as graduate courses related to the Theory and Practice of Teaching English as a Second/Foreign Language, Computer Assisted Language Learning and Teaching, Materials Development for the EFL/ESL language classroom, and Corpus Linguistics. At the onset of the SDSU-Georgia program, she was instrumental in mentoring Georgian faculty in their teaching practices.
Her involvement in this project will center around equipping local seed instructors with professional mentoring skills that help them observe peers' EMI teaching practices and offer systematic and constructive feedback while providing more opportunities for faculty members to perform EMI teaching demonstration and gain constructive advice. She will also review and advise on the classroom observation form the university has developed for future use.
The English Language Specialist Program is the premier opportunity for leaders in the field of teaching English to speakers of other languages (TESOL) to enact meaningful and sustainable changes in the way that English is taught abroad. Through projects developed by U.S. Embassies in more than 80 countries, English Language Specialists work directly with local teacher trainers, educational leaders, and ministry of education officials to exchange knowledge, build capacity, and establish partnerships benefiting participants, institutions, and communities in the United States and overseas.
Since 1991, the English Language Specialist Program has supported in-country, virtual, and mixed projects in which hundreds of TESOL scholars and educators promote English language learning, enhance English teaching capacity, and foster mutual understanding between the U.S. and other countries through cultural exchange. During their projects, English Language Specialists may conduct intensive teacher training, advise ministries of education or participate in high-level educational consultations, and offer plenary presentations at regional, national or international
TESOL conferences. These projects are challenging and those selected represent the best of the U.S. TESOL community. In return, the program provides professional development opportunities to help participants experience different cultures and build skills that can greatly enhance their TESOL careers at home.
English Language Specialists are counted among the more than 50,000 individuals participating in U.S. Department of State exchange programs each year. The Specialist Program is administered by the Center for Intercultural Education and Development at Georgetown University.