New Center for Better Food Futures — a Catalyst for Research Collaborations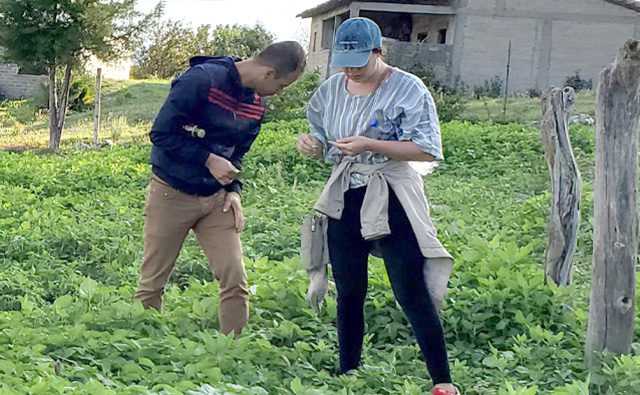 Center researchers promote food security, sovereignty, and sustainability
We are facing a global food crisis, with almost one billion people suffering from hunger and two billion struggling with malnutrition linked to nutrient deficiencies and obesity.
This crisis is environmental, political, economic, social, and cultural.
While climate change, soil erosion, ocean acidification, water shortages, and other forms of environmental degradation threaten food production, the contemporary high-input industrial food system also contributes to these threats.
The Center for Better Food Futures serves as a catalyst for research collaborations between SDSU faculty and students and our community partners. It communicates findings to a broad audience of practitioners and policymakers via publications, public events, and conferences.
The center's mission is to support interdisciplinary collaborative research to promote food security, sovereignty, and sustainability, with a focus on the U.S./Mexico border region. It seeks to advance the understanding of diverse food, agricultural, and fishing practices and their potential for building more sustainable and equitable regional food systems in which all people have access to healthy, affordable, and sustainably grown food.
Through research, outreach, and engagement, the center provides high-impact learning opportunities for students and supports food practitioners and community leaders in adopting solutions for better food futures.
Q&A with Co-director Pascale Joassart-Marcelli
What was the impetus for creating the center?
Part of the vision was prompted by the $1 million USDA GRANT that SDSU received this year. We realized how many people at SDSU are doing research that is related to food in general food, sustainability, equity, and food systems. And so we thought it would be really helpful to have a center where all of these different people can bring their grants, their research, and make it also very community-oriented and student-focused.
About twelve years ago I started teaching courses on food, and then with colleagues. More and more people were interested in talking about these things. We started thinking about creating the food studies minor (which debuted about two years ago). There has been much interest, and it is growing.
What do you hope to accomplish and why should a student do research at the center?
We have created a more permanent home and an institutional mechanism in the domain of food and food sustainability.
Our vision is to have the center outward looking and connecting with the community and very action oriented. We want to involve students as much as possible with all of the research and outreach activities. We want the students to be involved in the research, in potential internships with community partners, in disseminating the findings of the research by participating in conferences and the SDSU Student Symposium (each spring). The center plans to host a sustainability symposium, workshops, and conferences in the future. We want the center to be a hub for all students from a variety of majors and fields.
What are the internship opportunities?
There are three internship opportunities available to students.
In Baja California, Mexico (led by Lluvia Flores-Renteria), students will travel to a tribal community in Baja California to learn the ethnobotany Kumeyaay and the importance of using native plants in our edible gardens in a sustainable way. We will learn how to harvest, process and cook native plants and use them to make artifacts to store food.
In Oaxaca, Mexico (led by Ramona Pérez), students will travel to the Valley of Oaxaca to work alongside Indigenous farmers and learn from them about their traditional and current practices along with their responses to global climate change. This is an intensive immersion program of two weeks and requires intermediate language facility in Spanish.
In San Diego (led by Pascale Joassart-Marcelli, Changqi Liu, and John Love), students will focus on urban agriculture in San Diego, emphasizing both scientific perspectives and hands-on approaches to growing food locally and sustainably and addressing the social and economic challenges of growing, distributing, and accessing food in urban environments. It will include activities in the College Area community garden and field trips to local farms.
In addition, there will be a graduate assistantship available for a master's or Ph.D. student.
What are scholarship opportunities?
Many students, including undergraduates, will want to incorporate these experiences into their studies, whatever major they come from. They might want to add to the food studies minor just to get the credit for that, and also apply for scholarships.
We will be offering ten undergraduates and four graduate students scholarship awards.
How will the Center for BFF make a difference in the lives of San Diegans, the region, and the world?
There are so many people who are concerned about our food. They hear stories about the most direct thing that impacts people's health and how unhealthy the food system is. All these issues became obvious during COVID-19 in terms of the low pay and the food sector.
It's such a big sector of our economy. In San Diego alone one out of ten jobs is related to food and agriculture. It's not just farming, it's also the restaurant industry. And then, of course, there are the environmental issues with fertilizers and the impact of food on climate change which is becoming more and more evident in research; and, the effect on soil degradation — there are many concerns in the news every single day. I feel everybody relates to that, because we all eat and we are all wondering 'should we eat this, or should we that?'
Another exciting thing about the Center for BFF is that it's so interdisciplinary. It's about science, but it's also about culture, and it's about the economy.