Pascale Joassart-Marcelli and Jeanette Shumaker Honored with 2023 Alumni Distinguished Faculty Awards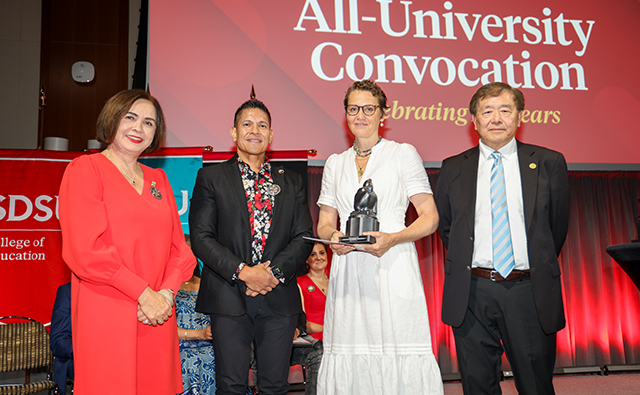 During the All-University Convocation on August 17, 2023, Interim Provost and Senior Vice President of Academic Affairs William Tong and Samuel Brown, president of the SDSU Alumni Board of Advisors, presented the annual Alumni Distinguished Faculty Awards for Outstanding Contributions to eight faculty across the campus.
Honored for outstanding scholarship, teaching, and citizenship were CAL's Pascale Joassart-Marcelli, geography professor and director of the Center for Better Food Futures and Jeanette Shumaker, professor of English in Imperial Valley (and longtime associate in CAL's Department of English and Comparative Literature).
"SDSU is an extraordinary university, in large part because of our extraordinary faculty," Tong said. "Among them are masterful, inspirational teachers; phenomenal researchers; committed and engaged citizens of our university community; passionate leaders of their scholarly disciplines both nationally and internationally; compassionate servants of our SDSU communities and many who excel in all these areas of professional endeavor."
Pascale Joassart-Marcelli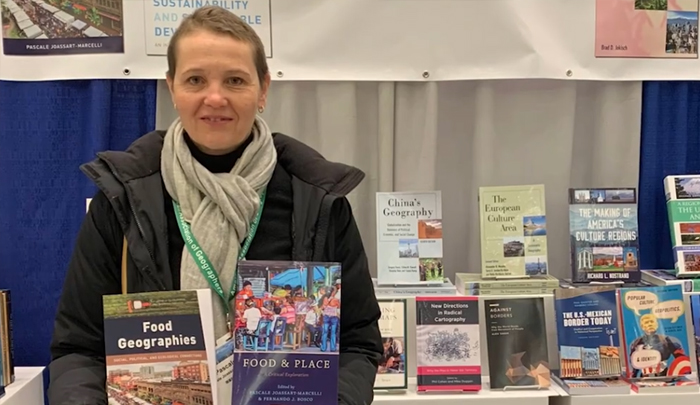 About Marcelli, Department of Geography Chair Fernando Bosco stated in his nomination letter, "In her fourteen years at SDSU, she has flourished as a scholar whose research ranges from urban poverty and social justice to the urban geographies of food — with a particular interest in the relationship between place, ethnicity, and food. Her contributions to the university are wide, encompassing research, teaching, and curricular innovations that have been a benefit to SDSU students and colleagues.
"Through her work, she has raised the exposure of SDSU nationally and internationally. She has been prolific and successful in publishing and obtaining external funding to support her work and her students.
Joassart-Marcelli is the author of two books and editor or co-editor of another three books. She has authored twenty-five peer reviewed journal articles that were published in top journals in her field, including the Annals of the American Association of Geographers, Environment and Planning A, Urban Geography and Health and Place.
"In terms of research, Professor Jossart-Marcelli's research focus is on the connections between food in urban environments, urban change, urban poverty, and social justice. Much of her work emphasizes the role of food in sustaining immigrant communities, providing economic opportunities, and revitalizing neighborhoods, while also contributing to social exclusion and exploitation," Bosco stated.
Jeanette Shumaker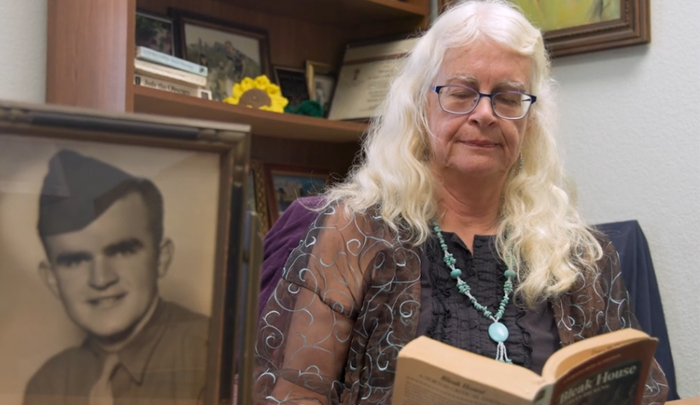 "In her over 30 years as faculty on our Imperial Valley campus, Jeanette has exemplified the teacher-scholar model that is integral to the mission of SDSU," Linda Abardanell wrote in her nomination letter.
"She is a distinguished scholar in the areas of Irish and English literature, with an expertise that includes women and Jewish writers and spans many genres including realistic fiction, fantasy fiction, children's literature, poetry, drama, autobiography, biography, and scholarly works."
Shumaker has co-authored a two-volume reference guide on Jewish writing in the UK. She is also currently completing a book about British and Irish fiction set in Venice.
"Students not only commend Jeanette for her extensive knowledge, her passion for the subject, and her ability to lead engaging discussions, but also for her respect for students and their ideas, her kindness, and her genuine caring attitude," Abardanell wrote.
In addition to her work at the Imperial Valley campus, Shumaker teaches master's seminars at the main campus in CAL's Department of English and Comparative Literature.