In Celebration of Africana Studies 50th Anniversary, Major Artists Visit SDSU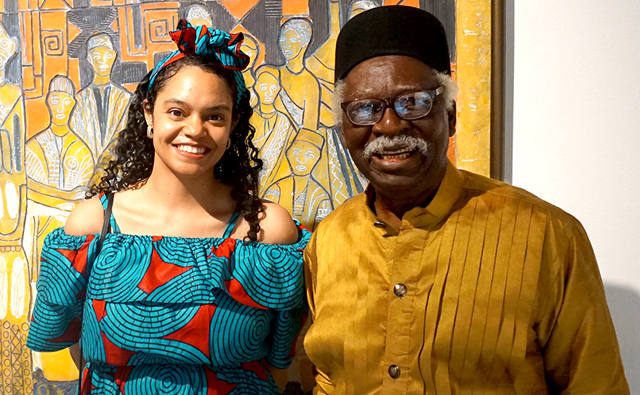 An art exhibition of internationally-known African artist Bruce Onobrakpeya and readings with Nobel Laureate Wole Soyinka were result of efforts by faculty members and students.
Not since Bob Marley performed at San Diego State University in 1978, has San Diego hosted an unparalleled cultural event centered on the African experience.
On March 2, world-renowned painter, sculptor and print-maker Bruce Onobrakpeya and Nobel Laureate in literature, author and playwright Wole Soyinka participated in a special event at SDSU.
To help celebrate SDSU's Africana Studies 50th Anniversary, student Akilah Wayne envisioned a cultural event that would be memorable. "My goal in presenting this event is to expose these renewed creatives to the student body and hopefully intrigue curiosity and spark conversations," Wayne said.
Working with Adisa Alkebulan, chair of Africana Studies, and Niyi Coker, director of the School of Theatre, Television, and Film, Wayne wrote a grant proposal to bring the prominent African artists to SDSU. "With Dr. Alkebulan's extraordinary mentorship, encouragement, and assistance, I was able to build up my confidence, write and turn in my proposal to the Student Success Fee program," Wayne said. "I envisioned an idea and created a possibility that both Dr. Alkebulan and I viewed as worthy enough for such an important commemoration."
The School of Theatre, Television, and Film, in association with the School of Art and Design, and the Department of Africana Studies presented a public exhibition of the works of artist Bruce Onobrakpeya (March 2-17), culminating in a moderated discussion panel and staged readings of the works of Wole Soyinka on March 2.
"The importance of this exhibition to SDSU and the San Diego community is vital, as it will provide the SDSU campus and the community with the opportunity to experience African art, literature, and culture from an African perspective," Wayne said.
Connections to the Artists
Alkebulan has followed the work of Onobrakpeya since the 1990s.
"I became a fan of his work while in graduate school at Temple University." Alkeubulan said. He attended an annual conference of the National Black Graduate Student Association, where he met a student whose thesis was on Onobrakpeya's work and when he saw slides of the artwork, he was intrigued. "My dissertation, though about language, had similar aspects."
During his second semester in grad school, Alkeubulan was going through an intellectual and knowledge growth spurt. In a class called African Literature he was introduced to Soyinka's "Death and the King's Horseman" a play based on a true incident that took place in Nigeria during the colonial era.
"I was learning so many different things about African history and culture," he said. "I think my internal conflict and the debates in class were a result of Soyinka's brilliance. He presented it as a dilemma that required serious introspection and conversation. Ultimately what happened in the community in the play, was re-lived in my class and as I imagined it did thousands of times after the play was read or performed. I think that was his point."